On a lookout for summer travel beach outfits for this beach season? The main motive in such travel plans is to relax and not knowing what to wear makes me quite stressful! Does this happen to you too? Do you spend a lot of time searching for matching sets for your travel? Don't worry, we are happy to help you with lots of beach outfits you're sure to love. These looks are best for those days when you want to spend the day relaxing on the beach with your friends or a romantic date, but not get into the water. Here are some cute, casual and pocket-friendly beach outfits which you can pick for your next travel plan.
Look 1

( Tops + Shorts )
The most beach friendly outfit is a cute top paired with your favorite shorts. You can also have some add-on like flip flops, a straw bag, hat and matching accessories. And Ta-da! You have got the beach-ready outfit for the day.
Pair 1
In this look, I had paired the following two outfits:
Shorts are definitely a go-to option for any casual beach activities as you can pair it up with anything like crop top, tankini, bikini, cover-ups etc. I paired this floral green printed mid-rise shorts with this cute brown solid knitted styled back crop top which complemented it perfectly.
Pair 2
In this look, I had paired the following two outfits:
When it comes to tops and shorts, I believe the more the merrier! Black shorts are absolutely a must-have beach wear. It goes with anything and enhances the look to make it perfect. I wore this stylish sleeveless boho swing top with the black shorts and paired it with accessories like a multicolored Tassel Bracelet.
Look 2 
( Dress )
Be it Maxi, T-shirt, Skater or Off-shoulder, dresses are the most comfortable beach outfit. You can wear it to the beach, the market, a date to that sea-view hotel or anywhere in the coastal area.
SASSAFRAS Women Off-White & Green Printed Maxi Dress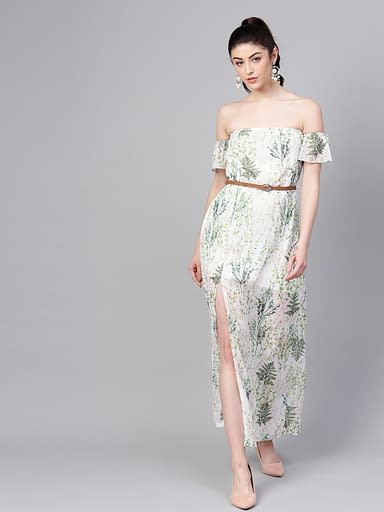 I have an inclination towards maxi flowy dresses when in a beach town as it keeps up with the coastal vibe. This cute off-white and green printed maxi dress is one of my favorites as literally you can wear this one thing and be fully gorgeously outfitted for the day or evening. Check it out here.
Metro Fashion Women Gathered Black Dress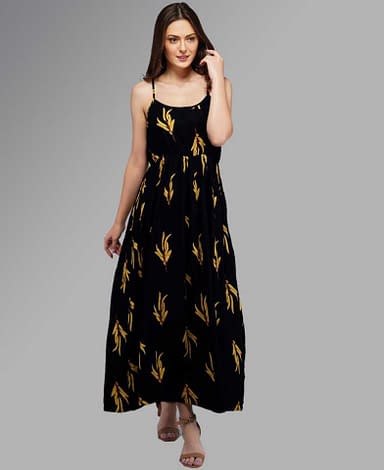 You don't have to think twice before wearing this noodle-strap Black Dress. Ticks off the items like soft material, pocket friendly, comfortable and trendy in the checklist of an ideal beach outfit. Check it out here.
Look 3

( Romper/Play-suit) 
A romper might not be the first thing that enters your mind when you search for beach outfits for your next vacation, but this is the ultimate look for slaying on a hot day on the sand to chill on a windy night.
Sassafras Women Dark Blue, Red, Green Romper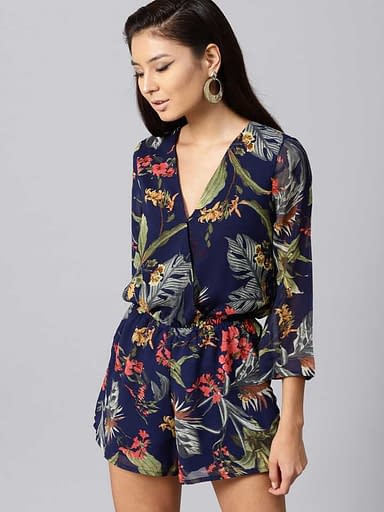 This dark blue rompers is what has been missing from your otherwise perfect beachwear collection. This is by far my favorite romper. I paired it with stud earrings, a beige straw hat and a pair of flip flops. If you want to look young, classy, sexy and chic, then this romper is a must-have for you! Check it out here.
Sera Women Fit and Flare Black Dress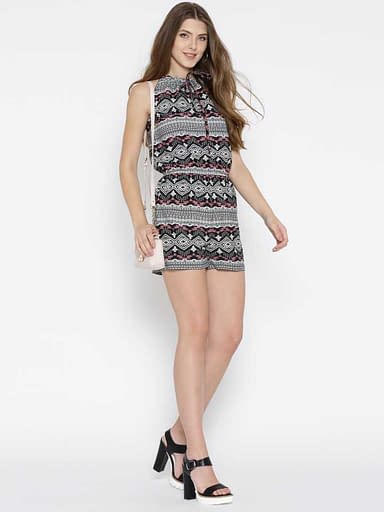 This is one of the most light-weight comfortable beach outfits I have come across. It is a printed fit and flare play-suit with striking fluorescent pink stripes which makes this outfit an eye-catcher. Pair it with trendy glasses and flip-flops and you are good to go! Check it out here.
While you are searching for beach outfits for the perfect beach look do look at the best beach cover-ups here. Do let me know your favorite beach look in the comments below 🙂