This time in Foods and Travel we have Gourav Mahendra, an emerging food blogger and influencer with us. Though I want to introduce him when it comes to food I can't wait. So let's hear from him.
Gourav, how you want to describe yourself?
"Techie by Profession and Foodie by Passion"
Born in Maharashtra (Nagpur), settled in Madhya Pradesh (Bhopal) and now living in Karnataka (Bangalore), As a born in Punjabi family exposed with the heavy food in the flavours of high butter and spices.
Being a Software Engineer by Profession and Foodie by Passion and I am also a devotee and worshiper of God. On GouravFoodie I will chronicle my experiences while exploring the new places and the new different cuisines in all over INDIA, if get chance of course all over the World.
What is the motivation behind becoming a food blogger from just a foodie?
To begin with, I would not count this as a heroic moment rather it will be a self-realisation and self-discovery journey for me. To me being a food blogger is a journey to share with you all.
Being a boy from a middle-class family and considering my mother as the best cook in this planet, my initial journey in Bangalore was tuff one of the prominent reason was 'Ghar ka khana' yes like others I was Missing it very badly. In quest of testy food, I became a foodie and started writing a blog or a review.
I started writing food blogs as a beginner, Bangalore which helped me to explore more of Bangalore food, moving forward I started doing my own review which instilled the passion of exploring new cuisine.
It's a journey of going from one place to another place in search of that taste which I was missing without which I was incomplete within myself.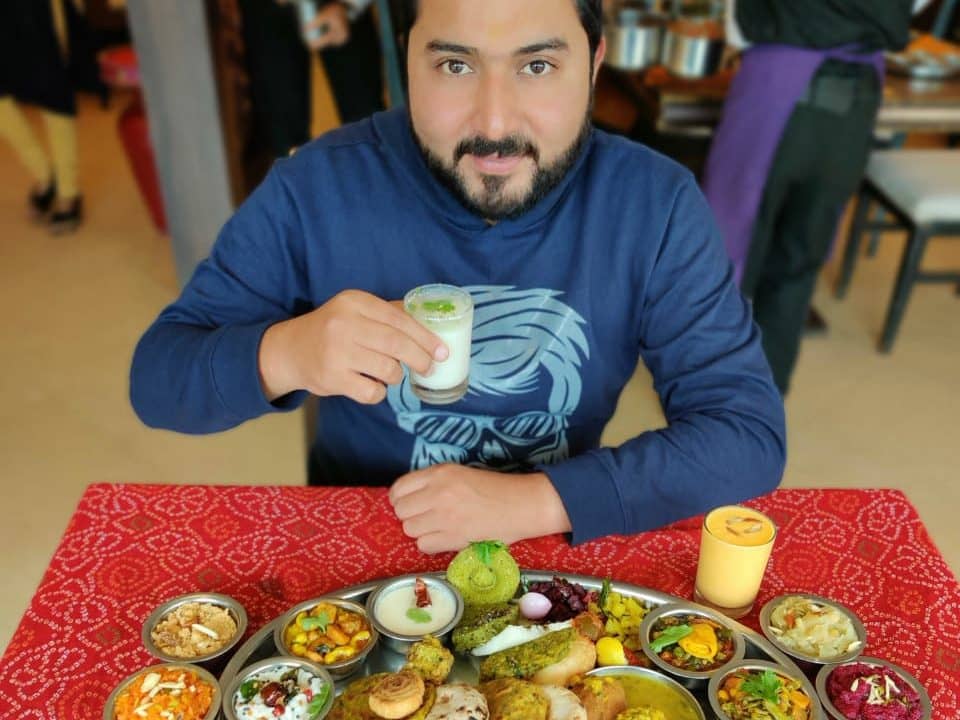 Quite a journey you have picked, but now you have to tell me about the food which excites you the most.
Rajmaaaaa…..yesssss. this word brings another level of magic on me, my eternal love for Rajma will never stop neither it will decrease.
And thanks to my most wonderful maa whose cooking style has made Rajma a perfect choice of food for me on every occasion. Let me share my piece of the story for Rajma. When I was around 10-12 yrs old kid, I had developed a craving for Rajma and like any other doting mom question "beta Aaj khane Mai kya banau?" My instant response would be "Maa Rajma chawal", to this response my mom use to smile and would serve me Rajma chawal during mealtime.
One good day my mom asked me usual questions "beta, Aaj khana Mai kya khayega?" and to this my usual response was " Rajma chawal" to this mom replied, "beta rajma to khatam ho Gaye hai, kabhi aur Bana dungi khuch aur kya le". This response made me a bit sad and that day I couldn't eat my favourite Rajma. Next day I invested my entire pocket money at the grocery shop and bought a big packet of Rajma and then went to my mom and Said " maa ye rajma" my mom asked " ye kaha se?" to which I responded " pocket money", this instance made my Mom happy as well as emotional also.
After 10 days it was my birthday so during that interval my mom learnt 10 different recipes made from Rajma and I was served different varieties of Rajma recipes like Rajma masala, Dal Makhani, Rajma Tikki, Rajma kabab, Rajma soup, Rajma salad, Rajma Pakoda, Rajma fry, Rajma Bhel, and Rajma cutlet.
Later on I got to know that It was a special gift from my mom to me and my crave for Rajma.
LOVE YOU MAA AND RAJMAA.
Such a passion for Rajma is unique and quite interesting indeed. I wish him great success in his food blogging journey and of course a lot of Rajma for him -:)
Rajma(Kidney Beans) Nutritional values (100gm, boiled)
Calories: 127
Water: 67%
Protein: 8.7 grams.
Carbs: 22.8 grams.
Sugar: 0.3 grams.
Fibre: 6.4 grams.
Fat: 0.5 grams
Next time I will come up with another such an interesting story. Also let me know what topic you want to read, comment below.