As long as there is snow, there is a way, a faster way. How to descend faster, slide down wherever possible. Some slides were smooth, some were too hard and more of a roller coaster ride. But were high on adrenaline.
This article is the last chapter of the 4 part Thunderous Kedarkantha series, I would strongly suggest you to read the previous posts first.
The descent had two phases
Return from Summit to the Base camp 2, where we had left our backpacks
Return from Base camp 2 to Sankri.
Phase 1
The first phase was easier, barring the fact that I could not feel my toes. You know, a large shoe helps in climbing by giving the extra room to your feet to move, but it becomes painful when snow is trapped there. So I rushed to the tea shop, order a tea and bread omelette and just removed my socks and shoes as first as possible. To add to my worries, I did not have any extra pair of socks at that time, so I had to dry them by the heat of the fire from the Chullha. If you smoke then you might get Bidis from your guide most probably. I love my lungs, so I avoid all type of smoke. In fact, if you want to enjoy your trek to the fullest, don't drink and smoke at least before the climb.
We left for the base camp. Water was still trapped in my shoes. But the joy of accomplishment and fun of clicking slow-motion videos overshadowed it. In 2 hours we reached base camp and packed our bags.
Phase 2
We did our launch as soon as possible and prepared for the descent. Again the group was divided, some were too tired to return on the same day, they wanted to stay. So out of the two guides, on had to stay with them. Most of us began our final descent.
It was hard to say goodbye to this great mountain, but I had to.
If you don't have crampons we will face problems, if you have a bad knee, you will feel the pain. On of the elderly trekker had to be transported back on the mule due to injury, so we had to take care of ourselves. This phase was much difficult. The load of the backpack, lack of support stick, broken crampons and the stiff decline of the trail were putting tremendous stress on the knees and ankles. Many time we fell down, slipped in the snow. There is also a high chance of breakage of your lower limb bones, as there were patches of soft snows, as deep as 6 ft and you could not spot it. It was all white, all around.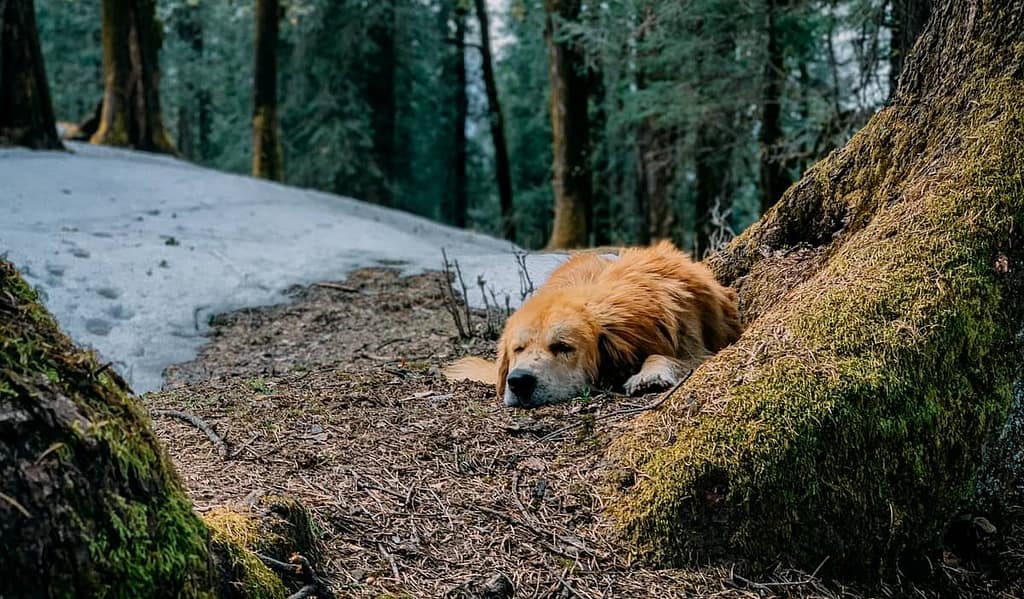 You can see the biological evolution here. Most of the dogs were twice or thrice the size of the dogs you see every day. They were full of fur and walked majestically, calmness in their eyes and strength in their body. They won't leave you alone but in return, they won't expect anything from you. There is a lot to learn from nature, the success of life lies in caring for others while keeping your soul happy, your life should not be only about you.
Gradually the snowy terrain was becoming water bodies. Pines, deodar and maples were creating a picturesque wallpaper. We were taking break intermittently so that others could catch up. By that time we had created our small group of the forerunner, led by our guide, Raghav. This man was an accomplished tattoo artist and there were proofs on all over his bodies, all self-made. Two doctors, an engineer, a manager and an Indian airforce man were the members of the team except for Raghav. We knew we won't meet again, so chatted about everything, from food to future.
Sankri is now 2 kilometres down the road and I will never forget about this part. Now there were no trails. You had to jump from rock to rock. There were rock cuts about 1-2 feet in depth. The lack of cushion in the souls of gumboots was hurting like anything. I wished at that time I were having my trusted pair of Nikes. But we had to return back, we had no other options now. It was already 5 pm and the sun was going down, resting was not an option.
Knee was hurting, feet were slipping inside the shoes due to water and sweat but I managed to land my feet on the road finally. My brother was 10 minutes behind me, but he was with Raghav, so nothing to worry. Now there are still another 500 meters to the resort. Every step then was a herculean task and already I had finished my water. I was determined to have a big dinner that day.
I reached at the resort at 6 pm. Tired and worn out, just removed my shoes and placed them at the collection counted (we had rented them). After 20 minutes of wait, I got the key to my room, there was just one thing in my mind, a heartfelt Shower.
Next day, at 8 am, time to say goodbye to other members of the team. When I looked at my brothers face I could realise the mixed feeling of satisfaction and loss because I was feeling the same way. Rishikesh to kedarnath distance can be covered in a day, just below 250 kilometers and some of the people from south ventured Rishikesh for more adventure too.
We came here to step away from everyday life, but this place gave us a new one. This Kedarkantha mountain challenged us like nobody else, but never forgot to take care of us. Nature or the creatures, no one will ask for your attention, because they know they deserve it. I might never return again, but my heart had never beaten faster for anyone else, that much I loved this beauty.
If you want something different?