I was waiting for the day. If I could feel my toes, didn't matter. If I had a good night sleep or not, I shouldn't care, neither should Kedarkantha. I started this journey to forget the rest, now it was time to find myself. The Himalayas teaches us to be resilient, determined and strong, now it was their turn to take the test and we had to pass. I closed my eyes, took a deep breathe, let's go.
This story is a continuation, read the previous chapter here.
Things to remember
Keep an optimum distance from each other thus people won't collide but can help each other when in need
People having crampons and who don't have crampons should climb in alternate order
Don't overtake in steep inclines
Always stay to the mountainside
Keep your center of gravity forward
Watch your steps
Day 3: The Summit (Altitude 3800 meters, 4KM)
This is the real test, this is what everyone aspires for when they start a trek, the summit of Kedarkantha. Our goal was to enjoy the sunrise at the peak of this Himalayan grandeur, so we had to start at the darkest hour of the night. The whole trekking group woke at 3 a.m. The snowfall had stopped but there was still some chance of rain. We had decided to climb anyhow, so I stepped outside. The wet socks from the previous day had become a slab of ice, felt like papad, so I had to throw it away. And proceeded for breakfast after freshening up.
It is vital for everyone to climb as light as possible, so we packed our handbags with water bottles, some protein bars, fresh socks and the camera. We put on the crampon and lined up outside the campsite, behind our guide.
4.30 am
Although we planned to leave at 3.30, there are always some outliers in the group who don't care about punctuality and at last, they have to rush. Also, some of the people preferred to not to climb to the Kedarkantha summit, they wanted to chill in their tents. So after everything we started the climb.
Then the temperature was around -9 degrees or below. It's dark outside. As I said before we had made a mistake, we carried only one torch. So I gave that to my brother and decided to follow. The initial phase was fast, as they inclination was bit smooth, but gradually it grew steeper and steeper. Then the problem started, as many people were not habituated to cardiovascular exercises, they were taking breaks every now and then. So we had to cross them and in the process, we lost track of each other. Now I had to migrate from person to person having the torch.
The torch fiasco
There were times when it was a bit scary because due to lack of light some times I was close to the cliffs. So I reduced my pace and started using my hands during the corners. I used to claw the snow on the mountainside while walking on the narrow passage. We reached a tea shop at 6.15 am, the last stop before the summit. The group was divided into two by then, fast movers and comfort climbers. I was in the former, we did have some chats there regarding descent. So we unanimously decided to descend to Sankri on the same day. It was becoming difficult in staying the tent for the whole night and also we felt we need to push ourselves even more to end this adventure with a blast.
7 am: Sunrise
The sun was rising and we had to be fast. Now the climb was zigzag. To reach the summit of Kedarkantha, you have to climb to the top of many hills around it. Every time we thought we reached, our guide used to point to the peak of the next mountain. So we walked.
Now, it was the final phase. You have to be very cautious now. The path was extremely narrow, just for one person at a time. I did not have a walking pole, so all the pressure was on my legs because clawing the snow was also very difficult then. I could see the ground, all the way down, almost 12000 ft below. I was scared, not because of the fear of falling, of course, that risk was also there, but it was taken over by adrenaline, I was scared because I would not have a second chance of reaching hear if I was unable to reach the summit at that time.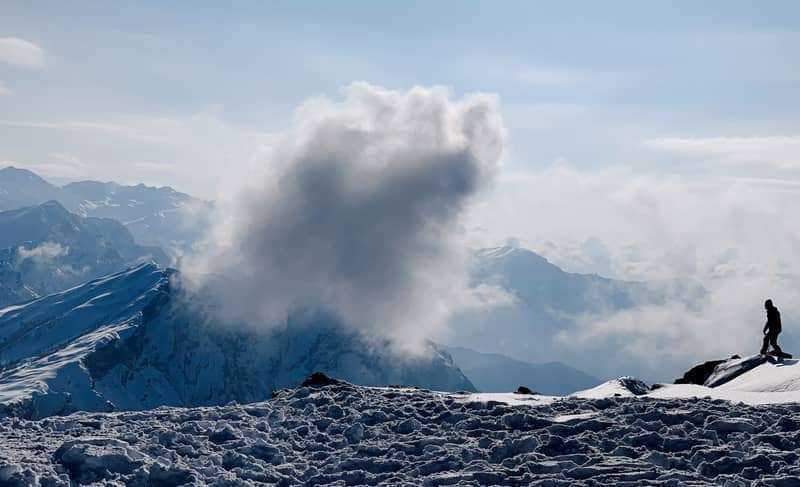 I adore dogs so much and on the whole journey, they were great companions. But you have to be judicious about the place where to profess your love for them. There were some people who were calling the dog in that steep narrow edge of Kedarkantha and sending the dogs back, thus creating chaos in the whole group, never do such madness if you have the slightest care for others life. In the midst of these, we followed our guide who was embossing the snow, thus helping us in gripping the ground. Then I knew, why this trail remains closed during rain.
The sweetness of Kedarkantha (3820 m)
Finally at 7.40 am we reached the summit. How it felt I can't describe, how it looked?, nothing like anything. The age-old snowy mountains all around. When you connect with these million years old structures, you will be forced to travel back to the ancient days of human existence. As one the tallest peak, you can see other summits from kedarkantha. To our surprise, now bars of the mobile network were appearing in our phones. Many people were video calling their families, friends and talking in excitement. I chose to keep my phone switched off, after all that was one of my objectives, right.
Hours passed, time for the descent. We wanted to reach Sankri on the same day. So we had to pick a trail, which shorter but steeper. There was always some risk and now it was a bit higher…
Read the last chapter: The knee breaking love.