To lead a healthy life it is always advisable to take clean and safe drinking water. The water we consume should be devoid of both suspended and dissolved impurities and also disease-causing microorganisms. The traditional method of purification takes time to a great extent and it may not clean the water completely as the purifiers do. This is where the use of water purifiers becomes so apparent.
Now the market is flooded with thousands of small and large brands and adding to it there are several technologies such as UF, NF,UV, RO, RO+UV and several other combinations which make the selection process very difficult.
BIS suggests the TDS (total dissolved solids) level of safe drinking water should be below 500ppm but the TDS between 150 to 300 ppm is always considered as the best.
The below table relates the suitability of purification technologies with water impurities.
TDS LEVEL
(ppm)
PRESENCE OF MICROORGANISMS?
SUITABLE PURIFIERS
500-350
Yes
NV+UF
500-350
No
NF
Below 350
Yes
UV
Below 350
No
UF/GRAVITY BASED
Above 500
Yes
RO+UV
Above 500
No
RO
Choosing the right Purifier technology
In India, the water supplied by Municipal body & also the bore well water in the rural area generally contain a TDS value below 500ppm. So it is advisable to use a UV water purifier.

Here is the list of Top 5 UV water purifiers available in India
1. Eureka Forbes aqua sure Aqua Flo DX water purifier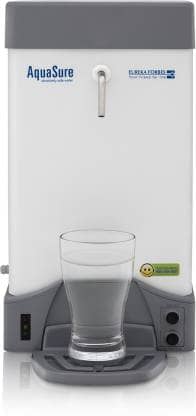 This product has dual cartridge, which clubs two filtrations together to remove suspended particles, organic compounds and odour from water, making it sweet to taste. It dispenses at a very high rate of 2ltr/min. And the most unique part is, it comes with a voltage stabilizer that protects it from fluctuating voltage level. To save electricity, the purifier automatically switches off the UV lamp. Save money and save your health in one go.
2. Kent Maxx 7L UV+UF water purifier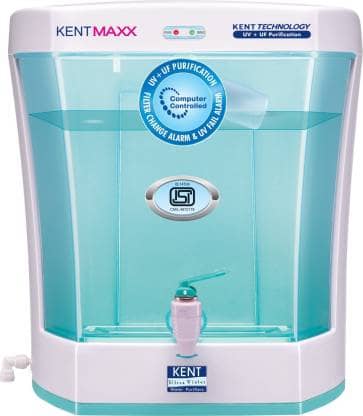 The biggest USP of this purifier is the transparent, detachable 7L large water tank, so you can get purified water even during power cuts. The intelligent alarm system notifies you when there is a need to change the UV lamp' filter. The installed spin welded UV membrane prevents tampering, substantially increasing the life of the purifier. It might be the most value for your money.
3. Eureka Forbes Aquaguard Crystal Plus UV
It has a 3 stage purification process. Suspended particles upto 5 Microns are filtered in the first stage while in the second stage the purifier absorbs organic impurities, foul smell, lead and VOCs (Volatile organic compounds) from water. In the final Stage the UV rays deactivate bacteria, protozoa and lethal micro organisms. The flagship Biotron cartridge breaks down the water molecules for easy absorption. This feature rich water purifier also has Auto Shut-off technology, Voltage stabilizer and Backflush to remove stagnant water.
4. Livpure Glitz 7L UV+UF water purifier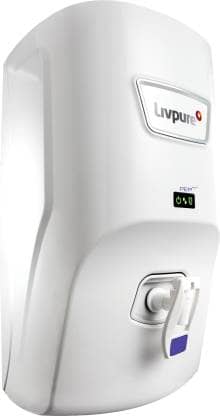 This is the flagship product from Livpure water purifier range. A purifier should not only give you quality water but also should blend in your modern home, and this products ticks just right in to the box. The Cartridge can be easily removed and installed by anyone, thus easing the maintenance. It comes with 7L water tank and the feature set includes 4 stage purification with UV, E-Monitoring, UV Failure Indication, Power saver technology, Back flushing port, and a convenient shutter tray. This is a perfect buy for a large family.
5. HUL Pureit Classic UV water purifier
Pureit makes sure every drop count and you drink fresh water always. Advanced alarm system, high intensity UV lamp, 5 Stage purification through UV technology, and Auto shut off are some of the key feature of this amazing purifier. The compact and sleek design fits really well with modern compact kitchens.
Have you checked the TDS level in your area? If not get a TDS meter and check it before deciding a water purifier.
If you are setting up your new home, you might need to check out these top-rated Air Conditioners too. Happy Home, Happy life -:)